Keys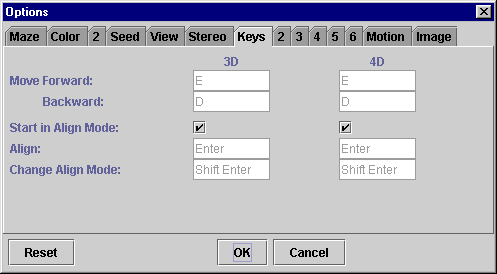 The keys options control how keys on the keyboard are associated with functions in the game. To change the key for a function, just click on the corresponding field. That will bring up the define-key screen.
The move keys let you move forward and backward.
When you start a new game, this field tells whether you'll start out in align mode.
In align mode, when you move, you move one full square at a time, and when you rotate, you rotate through a full 90 degrees, so that you always end up in the middle of a square with axes aligned.
If you're not in align mode, and get disoriented, you can use the align key to bring yourself back into alignment without actually switching into align mode.
You can use this key to switch in and out of align mode. When you switch into align mode, you will automatically be brought back into alignment.
next