Stereo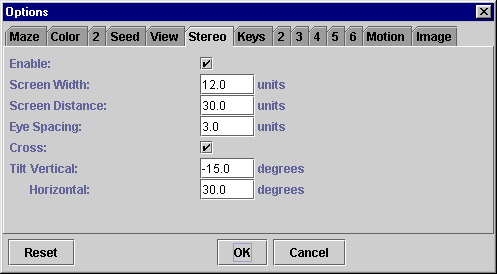 The stereo options control how the three-dimensional retina is displayed on screen. Despite the name, some of the options apply even when stereo mode is disabled.
You can use the change keys to change most of the stereo options without bringing up the options screen.
The screen width, screen distance, and eye spacing are specified in arbitrary units. However, please note that if you'll be creating saved images, you'll need to specify the unit on the image tab.
The enable box tells whether stereo mode is enabled. If so, the retina is displayed as two cubes, a stereo pair; if not, it's displayed as just one.
The screen width is the left-to-right width of the entire screen. It is specifically not the monitor size or the width of the game window.
The screen distance is the distance from your eyes to the screen.
The eye spacing is the distance between your eyes.
When stereo mode is enabled, the cross box determines whether or not the stereo pair is designed to be viewed with crossed eyes.
Viewing a non-crossed pair is just like viewing a crossed pair, except that instead of crossing your eyes, you relax them. However, because your eyes can't look outward, it won't work if the distance between the image centers is larger than your eye spacing.
The tilt angles set the vertical and horizontal tilt of the retina.